Our spiritual journey with God consists of

four distinct steps

. 
Each step is important and builds upon another. 
As one begins this life commitment, it is exciting and transforming as God becomes alive in us.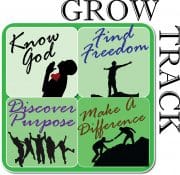 1. KNOW GOD
2. FIND FREEDOM
3.DISCOVER PURPOSE
4.MAKE A DIFFERENCE
1. KNOW GOD
What it means to ask Jesus into our life: 
Admit we need a savior to forgive us of our sins.
"For everyone has sinned; we all fall short of God's glorious standard."  Romans 3:23
"For the wages of sin is death, but the free gift of God is eternal life through Christ Jesus our Lord."  Romans 6:23
Believe Jesus is God's Son and that He can forgive our sins.
"But to all who believed him and accepted him, he gave the right to become children of God."  John 1:12
Confess your sins and need for Jesus to come into your life.
"But if we confess our sins to him, he is faithful and just to forgive us our sins and to cleanse us from all wickedness."  I John 1:9
2. FIND FREEDOM
3.DISCOVER PURPOSE
4.MAKE A DIFFERENCE